2019 Mazda MX-5: The Perfect Roadster DOES Exist
June 19 2019,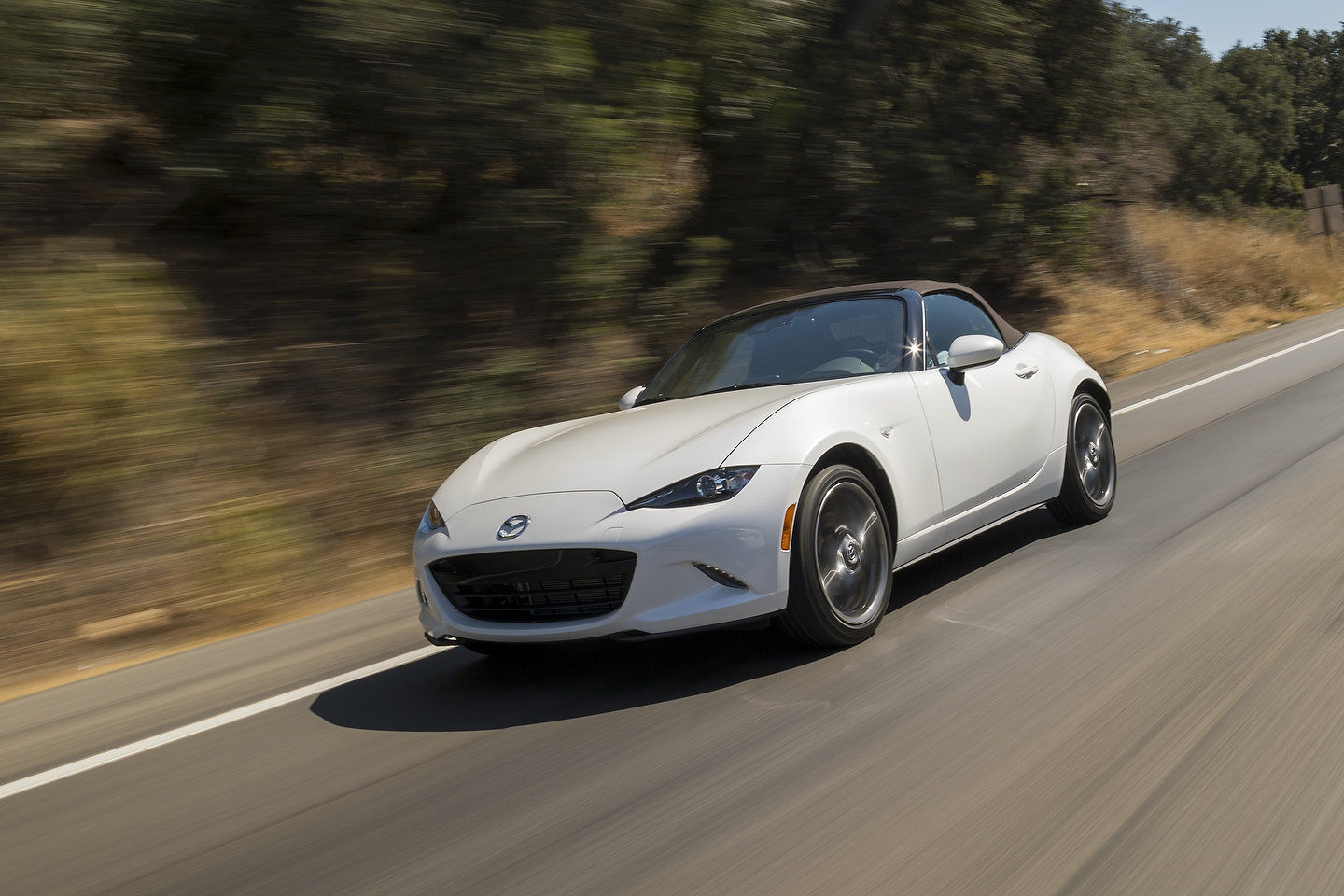 If ever there was a time an old saying was absolutely true, it would be when referring to the Mazda MX-5 and how "good things come in small packages." This rather small but oh-so mighty two-seater is all kinds of good in a decidedly small package. And even though it will never win any prizes on interior space and cargo options, what it will do is endlessly impress on the road.
There's another saying that works well with the Mazda MX-5: If it ain't broke don't fix it. Despite it's name being overhauled from Miata to MX-5, this little roadster has remained fun to drive and nimble, perfectly combining ideal cruising characteristics with What was once known as the Miata and now the MX-5 has always been a fun-to-drive two-seat roadster. Quick and nimble, the MX-5 might just be the perfect weekend cruiser/track-attack car.
Your Mazda MX-5 can be equipped with either a 6-speed manual transmission or a 6-speed automatic. However, this spirited little roadster really is best when driven with the 6-speed manual.
Despite not changing a great deal for 2019, what Mazda's engineers did do is ensure every last ounce of power and performance was extracted from the convertible's Skyactiv-G 2.0L 4-cylinder engine that produces 181 horsepower and 151 lb-ft of torque.
In terms of power numbers these days, that might not seem like a lot of power, but in a car that's small like the MX-5 (just 1,065 kg with the automatic), that's a power to weight ratio of 126.0W/kg, and that translates into an MX-5 that's absolutely joyous to drive because it feels so fast. The Mazda MX-5 is also one of the most perfectly balanced cars on the road today. It boasts a near 50/50 weight balance from nose to tail.
Since the fourth generation Mazda MX-5 ND model was revealed in 2014, the roadster took on a whole new modernized and, let's be honest, sexy silhouette overall. The Mazda MX-5 features an angular front fascia and back end. The MX-5 isn't just sporty to drive, but also in looks.
Slip into the 2019 Mazda MX-5 and truthfully there isn't a ton of room, however, what is there is exactly what's needed to enjoy the ride completely. There is an easy-to-use entertainment system with a full-colour touchscreen coupled with Mazda's HMI system. There are even optional Recaro racing seats. Of note: If you opt for the soft top instead of the hardtop RF, the roof is manually opened and closed. And it's a quick and easy process that takes literally 10 seconds to operate.
If you want to find out more about the 2019 Mazda MX-5, head down to your local Regina Mazda to speak to one of our experts. And you really do not want to miss a test drive in this one!